4K Challenge
TMDsports is a platform for the endurance lover and adrenaline junkie to discover and experience unique, new and exhilarating sports challenges.
4K Challenge championshiP
Give us your suggestions for the next challenge.
4K Challenge 2018 . Concluded!
Important Notice: Due to last minute logistical accident, there will be a briefing for all participants before the event starts. All participants to report at 9am. Those who are not able to make it at 9 am we will brief you when you arrive.
Competition Date: 5 August 2018
Time: 8am - 7pm
Venue: ActiveSG Center Toa Payoh Swimming Complex
301 Lorong 6 Toa Payoh, S319392
Briefing/Demo/Tryout on competition and Water Treading Test: 29 July 3pm to 5pm (postponed) for all participants (exempted if you can swim) - Postponed to 4th August 11 am to 4 pm or 5th August before your competition time slot.
Students (25 or less) and NSF : $15
Adults : $30
TMDsports alumni and friends have discounts!
Download Competition guidelines here
2 to form a team in the following categories:
1) Men's Open
2) Women's Open
3) Junior's 21 and Under Open (by year of birth)
4) Masters (40 years old and above by year of birth)
5) Mix (One male one female)
Prizes are given for top individuals and for top 3 teams! Come and be creative but don't forget that you will be wet!
Supporters are also kindly appreciated to support the special needs students whom we are bringing to have fun at this event!
Be prepared for more rounds of challenges, tougher reps and yes.... you have to survive the water elements. You are not required to swim but at least tread water or complete with a lifevest.
Do not be afraid to participate, it will not be as scary as you think!
Click on the link to sign up and for more details!
Prize Categories
First, Second and Third Placings for all of the following categories and Top Individuals
Male Team
Female Team
Mixed Team
Junior Team
Masters Team
Overall Top Team and Top Individuals (Male, Female, Junior, Master)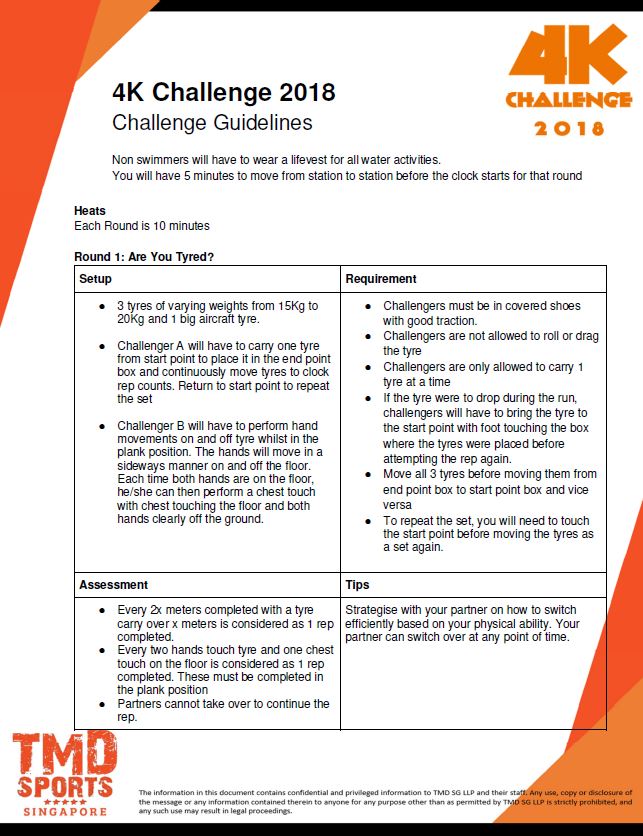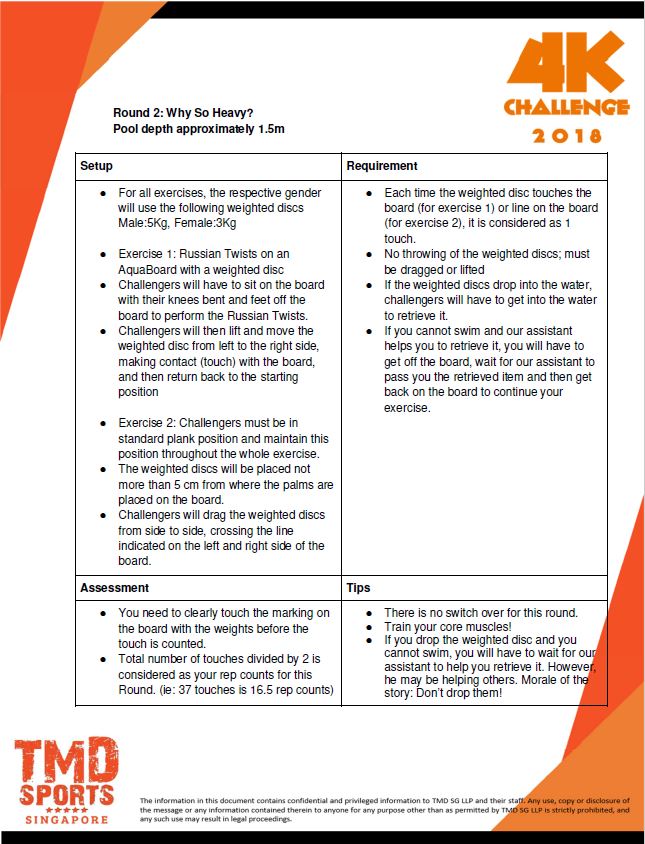 WAIT THAT'S NOT ALL!
There is also a public open trial on 4 August to allow the public to come play and try out the FloatFit AquaBoards. Come anytime between 10 am to 4 pm for this opportunity!
This year we are also a part of a programme of the Singapore University of Technology & Design (SUTD) student initiated competition called CRUX, Southeast Asia's only Deep-water Solo Event. Participants will scale a wall 8 meters high with a pool just below you to catch their fall! (Don't miss out the expletives as they fall!)
Not an experienced climber? Not to worry! There will also be a 4.5 meter boulder tower for the newly initiated. No prior registration will be required for the boulder tower!
We are truly happy to work with these students to bring greater value to participants of both events! Their insanity in climbing truly exemplifies the spirit of our athletes too!
If you are interested, by taking part in our event, all who sign up for our 4K Challenge will also be able to take part in their fringe activities for FREE!